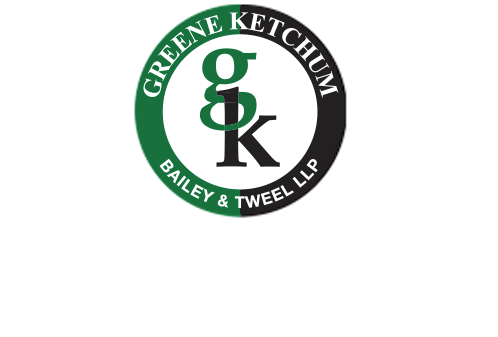 Your
Personal Injury
Lawyers
Our focus is simple – help our clients win their case & get their lives back on track
WE KNOW HOW TO HELP ®
For 70 years, Greene, Ketchum, Bailey & Tweel LLP has been committed to fighting for our clients. The firm operates as an elite litigation team, representing our clients and their families in personal injury cases that include motor vehicle accidents, medical malpractice, workplace injuries, defective products and premises liability.
Greene Ketchum's attorneys have successfully tried numerous personal injury cases to jury verdict in the State and Federal courts of West Virginia, Kentucky and Ohio. Their skilled advocacy has resulted in record breaking verdicts and judgments and millions of dollars in verdicts and settlements for our clients. For their work, the firm's attorneys have been recognized by legal organizations for excellence and included in The National Trial Lawyers Top 100 Trial Lawyers and Super Lawyers®.
Greene Ketchum is also experienced in handling mass litigation including medical device litigation, pharmaceutical litigation, toxic tort litigation, product liability litigation and chemical spill litigation. In 2017, Greene Ketchum filed the nation's first lawsuits against the wholesale distributors of opioids and is a member of the "National Consortium," a team of seven law firms, leading the national fight against the opioid epidemic.
In addition to our legal work, Greene Ketchum's attorneys have served on numerous legal and educational boards, including West Virginia State Bar Board of Governors; the West Virginia Ethics Commission; West Virginia Law Institute's Governing Council; West Virginia Judicial Vacancy Advisory Commission; West Virginia Association for Justice Board of Governors; Marshall University Foundation, Inc.; The Society of Yeager Scholars at Marshall University; the Faculty Merit Foundation of West Virginia, Inc. (selects higher education's "Professor of the Year"); the Marshall University Graduate School Advisory Board; Hospice of Huntington; and the Cabell County American Cancer Society.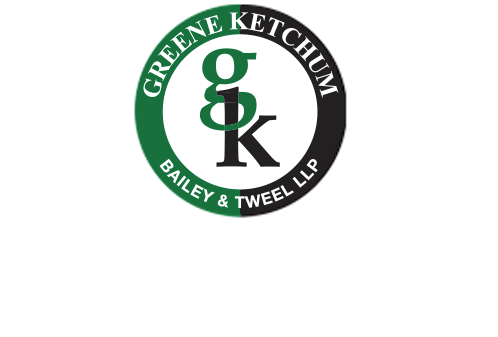 We Know How to Help®
WITH OVER 70 YEARS OF EXPERIENCE
Request a
Free Consultation
We would be honored to review & consider your case. Call us at 304.525.9115 or submit your case online for prompt evaluation.